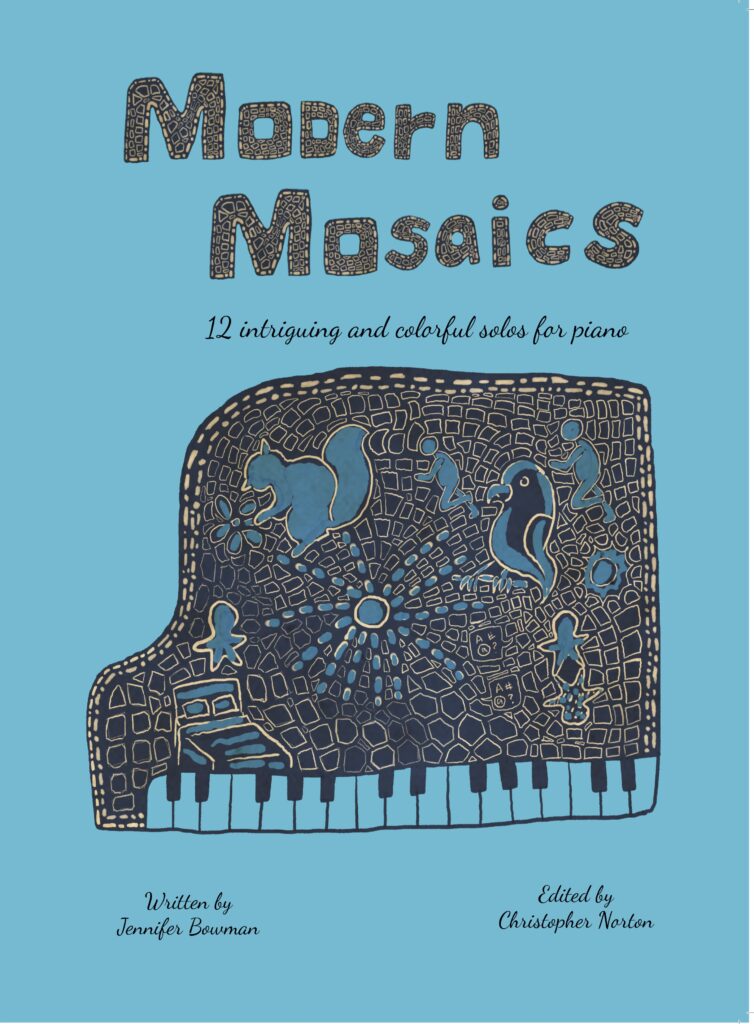 Modern Mosaics
I was grateful to collaborate on this project with the esteemed composer Christopher Norton, and Andrew Jones of 80 Days Publishing.
This book is a collection of 12 intermediate-level piano pieces. They feature the same sorts of challenges as the more "traditional" repertoire, but are written in the contemporary element–with popular, jazz and new age colors.
80 Days Publishing is located in the UK and will ship worldwide. Just click on this link.
Special thanks to Christopher Norton for editing and guidance, Andrew Jones for the beautiful engraving, Joy Liu for the cover, Michael Stegner for continuing musical guidance, and my family for giving me time and space to work on my creative projects.
YouTube composer performances click here!
With over 35 years of teaching experience, during the pandemic, I started making teaching videos for my students to supplement the online lessons I was teaching. I have been able to create videos that have helped people all over the world. Videos include piano basics–scales/arpeggios, technique book tutorials, chords and jazz, piano performances, and quick piano tips–addressing specific issues in the piano repertoire.
Please click here to visit my YouTube channel!
"Bachlets"
I recently finished a collection of piano arrangements of orchestral music of J.S. Bach. These are for elementary/intermediate pianists and feature some of Bach's most beloved melodies. Available as a collection of 6, or as singles. Short tutorials on YouTube! For more information, click here.